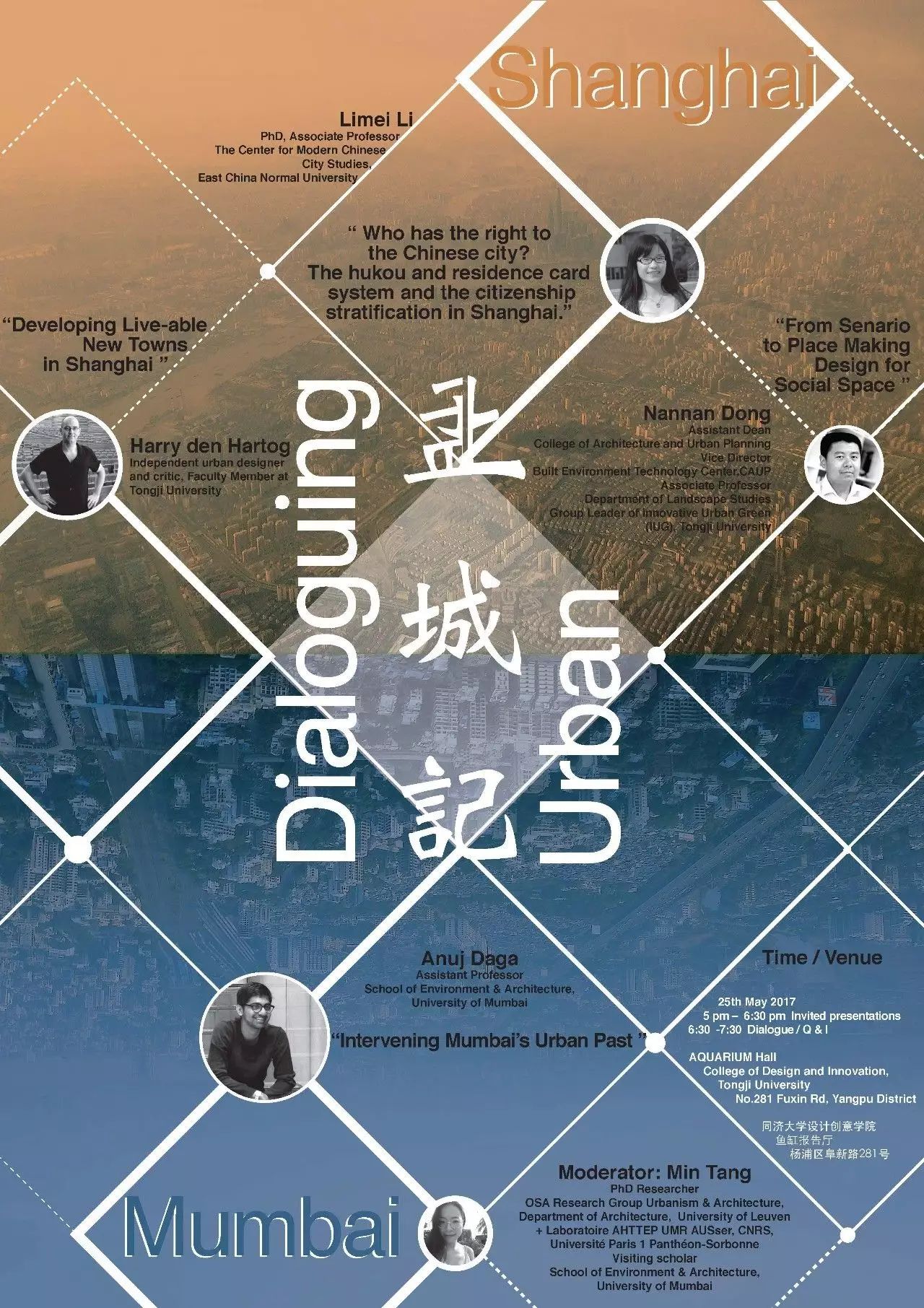 Introduction
For Mumbai, becoming Shanghai has remained a political dream - given the similar economic and geographical orientations of these cities within their respective countries. Over the last two decades, both cities have been marked by severe transformations through historical erasures within which their lived landscapes continue to emerge. In appropriating the western model of urban development, several qualities that give character to these Asian cities often go overlooked. How can urban transformations be more inclusive so as to preserve the specificities of these cities as they adapt to future? This discussion, arranged as a part of an ongoing exchange programme between two institutes from Mumbai and Shanghai, bring together four speakers in conversation with urban researcher Min Tang to deliberate on new developments in these cities so as to enable rethinking the spatial and social relationships in the urban discourse.
On
Thursday, 25th May, 2017
At
AQUARIUM Hall, College of Design and Innovation, Tongji University
No.281 Fuxin Rd, Yangpu District
杨浦区阜新路281号
分享精彩瞬间万博体育直播APP赛事
鱼缸报告厅
Programme
5:00 pm – 6:30 pm Invited presentations
6:30 pm – 7:30 pm Dialogue / Q&I
Speakers

▴ HARRY DEN HARTOG

"Developing Live-able New Towns in Shanghai"
Harry den Hartog is an independent urban designer and critic. He has been working for more than ten years as a designer for several (Dutch) urban planning and architecture firms until he founded his firm 'Urban Language' in 2004 in Rotterdam. Since the late 1990s he regularly visited Asia, especially China, and since 2008 he is based in Shanghai, the heart of the Yangtze Delta Region. He regularly publishes reviews and essays for various local and international magazines, conducts design workshops and occasionally lectures at various institutes and universities across Europe and Asia. He teaches urban design and housing at Tongji University Shanghai since 2012.
▴ Li Limei

"Who has the right to the Chinese city?
The Hukou and residence card system and the citizenship stratification in Shanghai."
Li is a PhD and Associate Professor at The Center for Modern Chinese City Studies, East China Normal University. Public Account on WeChat: CityReads
▴ ANUJ DAGA
"Intervening Mumbai's Urban Past"
Anuj Daga is a hybrid design thinker interested in engineering new ways of reading and intervening into the built environment. Trained as an architect from Mumbai (2008), he went on to pursue his interests in History & Theory of Architecture as well as design research through the interdisciplinary Master of Environmental Design program at Yale School of Architecture (2014). His practice is informed by his diverse engagements in fields of design, research and academia. Anuj has worked with several cultural institutions as well as research & artist organizations including Max Mueller Bhavan Mumbai, Collective Research Initiatives Trust (CRIT) - Mumbai, the Museum of Modern Art (MoMA) - New York and Critical Art & Media Practices (CAMP) - Mumbai in different capacities. He has keen interest in studying the visual culture in architecture and the way different visual media tie into contemporary architectural expression. Anuj regularly contributes reviews on art and architecture to Art India. Currently, he is an Assistant Professor at the School of Environment & Architecture, Mumbai where he teaches Visual Studies, Design Studio as well as History & Theory of Architecture.
▴ DR.-ING. NANNAN DONG
"From Senario to Place Making: Design for Social Space"
Assistant Dean of College of Architecture and Urban Planning (CAUP)
Vice Director of Built Environment Technology Center, CAUP
Associate Professor of Department of Landscape Studies
Group Leader of Innovative Urban Green (IUG)
Moderator
MIN TANG
PhD Researcher
OSA Research Group Urbanism & Architecture,Department of Architecture, University of Leuven + Laboratoire AHTTEP UMR AUSser, CNRS, Université Paris 1 Panthéon-Sorbonne Visiting Scholar, School of Environment & Architecture, University of Mumbai
---