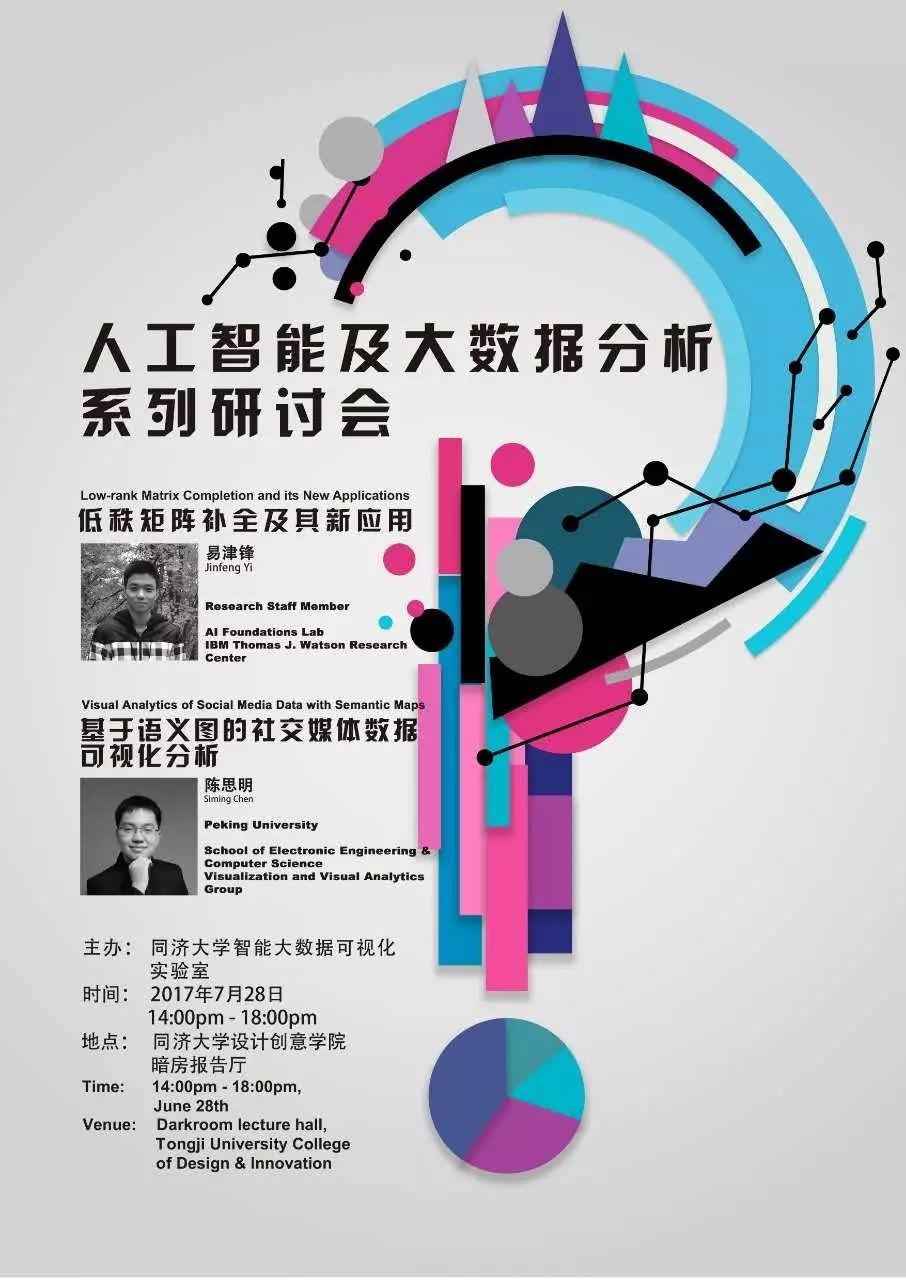 演讲人:易津锋、陈思明
Time: 14:00pm—18:00pm,June 28th
Venue: Darkroom lecture hall,
Tongji University
College of Design & Innovation
Speaker: Jinfeng Yi、Siming Chen
演讲一
Title: Low-rank Matrix Completion and its New Applications
Abstract :
Matrix completion aims to recover the missing entries of a partially observed low-rank matrix. It has solid theoretical foundations and has achieved remarkable success on a wide range of domains. In this talk, I will present some of my recent research in this area. Specifically, I will first briefly introduce matrix completion, and then talk about using this technique to solve multiple challenging machine learning problems: (i) how to accurately infer mobile users' location categories purely based on their highly inaccurate location updates; (ii) how to use static learning models to analyze time series data; and (iii) how to make demand-aware recommendations for trillions of (user, item) pairs.
Bio:
Dr. Jinfeng Yi is currently a Research Staff Member in the AI Foundations Lab at IBM T.J. Watson Research Center, Yorktown Heights, NY, USA. He received his B.E. degree from University of Science and Technology of China in 2009 and Ph.D. degree from Michigan State University in 2014. Dr. Yi's research interests lie in machine learning and its applications to big data analytics. Most recently, he has focused on large-scale matrix and tensor recovery and deep neural networks. Dr. Yi has published over 20 papers on prestigious machine learning and data mining venues, including ICML, NIPS, KDD, AAAI, ICDM, and Machine Learning Journal. Besides, he holds more than 10 US patents across large-scale data management, privacy preserved data sharing, location context inference, events prediction, feature engineering, spatial-temporal analysis, and customer profile learning.
演讲二
Title: Visual Analytics of Social Media Data with Semantic Maps
Abstract:

A Large number of people are using social media. The data of social media record all the behaviors of social interactions of users, which are fruitful to analyze. However, it is challenging to gain insights from such large and heterogeneous data, which includes social network, spatial temporal information and text information, etc. We first identify the problems in social media analysis, including exploring movement patterns in physical world, exploring information diffusion patterns among social media users, and analyzing significant events' evolution in social media. To solve these problems and challenges, we propose novel methods of map-based visual analytics approaches. We project the unstructured information in physical space and abstracted space onto a structured map space with semantics. With these approaches, users are able to understand data features of the social media data space. Moreover, we support the interactive visual analytics process in the constructed map, to support users analyze the spatial, temporal and attributes to derive the insight. We also apply our methods in the real-world social media data and analyze many patterns from the complex dataset.
Bio:
Dr. Siming Chen is a Postdoc Researcher at Fraunhofer Institute IAIS (Intelligent Analysis and Information Systems) and University of Bonn in Germany. He received his Ph.D. on computer science at school of EECS, Peking University and received his BS degree on computer science in Fudan University. His research interests are visualization and visual analytics, with the emphasis on social media visualization, spatial temporal visual analytics and cyber security visual analytics. He has published several papers in top conferences and journals, including IEEE VIS, IEEE TVCG, EuroVis, etc. and won multiple IEEE VAST Challenge Awards. For more information, please visit http://vis.pku.edu.cn/people/simingchen.
---
编辑 | 榴莲、睿妍

责编 | 徐徐